I've been creating fused glass jewelry, dishes and accessories for over 24 years. Over the last 5 or so years I've been working more and more on creating glass art pieces. My glass art can now be found in a number of galleries in Maine; two are Art Galleries, while the others are artisan cooperatives.
Glass art can be created using  many techniques and processes from painting to casting glass. The lobster below was created by cutting out the many pieces of the lobster, much like in stained glass, and constructing him over a landscape like base of crushed glass. The piece was then fused just enough to melt the pieces together, while still allowing them to retain some texture.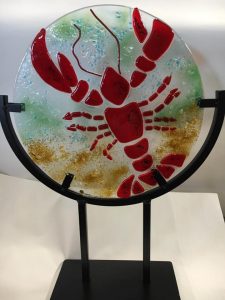 Another technique is to use glass enamel, which can be used much like traditional paint. The 'painting' of the koi pond below, was created using this technique.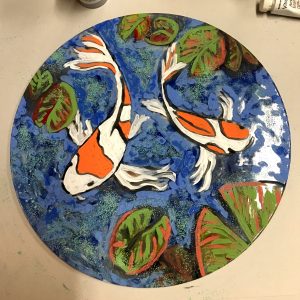 Creating glass art allows me endless creative freedom, as glass is such an amazing medium with endless possibilities.  Check out my glass art for sale at one of my galleries on here on the site: